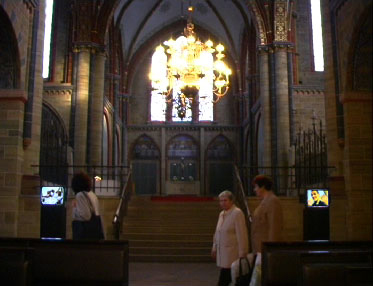 Our priest for each day
Video-sculpture
2 29" monitors
2 video players
2 audio and 2 video chanels
The installation in the cathedral of Bremen takes up some important aspects of the architectonic composition.
To the left and to the right of the stairs leading to the altar are two monitors. The monitors are aligned with the ornamental church windows. In the past, people viewed these windows with a similar fascination given with the stars today in the media. The color and pattern of the windows diffused the incomming natural light and is directly connected to the flickering of the picture tube from the monitors.
On the right monitor, one sees a Christian service. The main actor is a priest named Padre Marcelo. He is currently a very popular priest and a media star from Brazil, who attracts, in many cities, thousands of people to his services located in large public squares. On the left-hand side, one sees a carnival procession with scenes of the sermon, in which a provocative singer says the Lord's Prayer and famous Brazilian singers form the end of the carnival procession with hymns of praise.
This piece of work discusses traditional ways of faith used in the new media in a time in which old diseases are still prevelant. The people have always prayed for healing; in the past, they prayed to an imaginary God or human being; today to a machine: to the TV.