The Soccer in Rhythm of Time
2007, video art, 3`18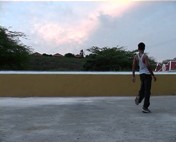 A group of friends play soccer late in the afternoon, but it's not only about scoring goals. As the night comes, the neighbors are going to celebrate with loud music. For the viewers, this is a great opportunity of watching soccer in a different way.
Presented in:
2009
Tela Digital, online competition of TV Brasil.
2007
Instituto Buena Bista, Curaçao, Netherlands Antilles.